Marry me chicken is about to become your new favorite chicken recipe! This crowd-pleaser takes juicy, tender chicken breasts and marries them with an amazing parmesan cream sauce, sun-dried tomatoes, and fresh basil for a rich and flavorful main dish that everyone will love.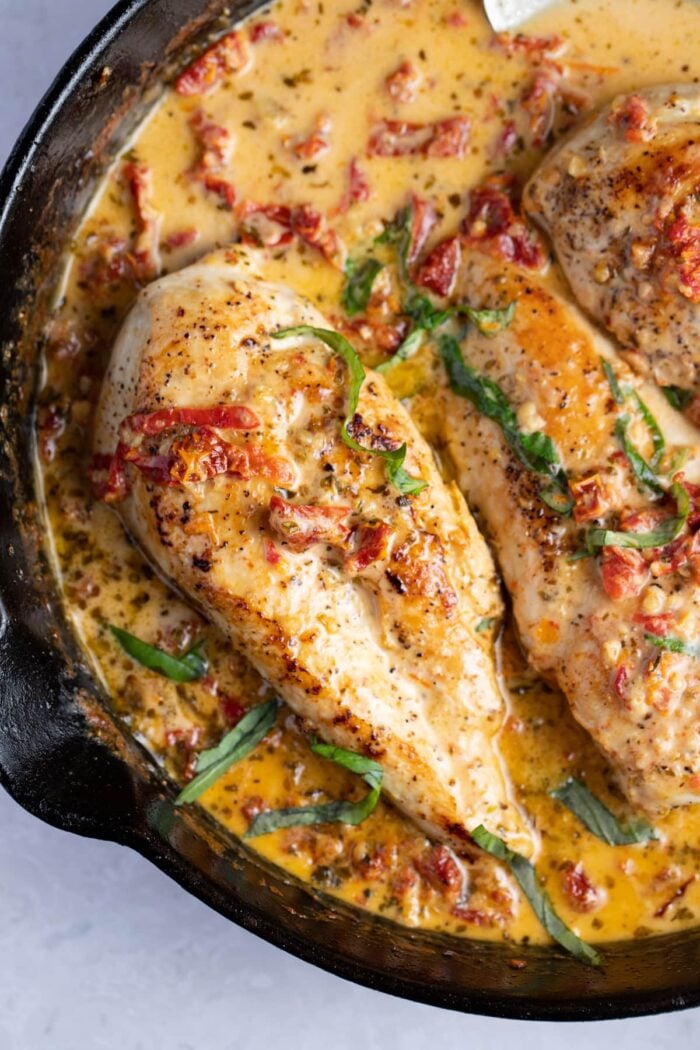 Looking for a dairy-free, paleo-friendly, and / or Whole30-compliant version of this great recipe? Check out our Whole30 Marry Me Chicken (Paleo, Dairy Free)!
What makes this recipe so good
If your partner isn't madly in love with you already, then a bite of this chicken recipe will have them ready to serve! Okay, maybe we can't warranty that, but this is the theory behind the name! Marry me chicken is a dish so amazing that you will listen to music, you will see hearts floating in the air and you will feel obliged to profess your immortal worship. Serve with caution.
Given the rich flavors of the sauce, it's almost hard to believe how simple this recipe is! It doesn't even need fancy sides or anything. I like to pair my married chicken with some garlic butter parsley potatoes or asparagus from the air fryer. You can always serve it with a little pasta or even palmini. Easy, satisfying and delicious!
This chicken dish is natural keto-friendly, low-carb and gluten-free. No adjustments are needed!
Marry Me Chicken is a great option to anticipate if you are preparing meals! Store in the refrigerator in an airtight container for up to 4 days. To reheat, put it in the microwave or heat it on the hob until it is hot.
Key ingredients
Chicken – What's the chicken groom without the chicken ?! We use boneless, skinless chicken breasts in this recipe, but you could easily use chicken thighs (with or without bones). Chicken on the bone will lengthen the cooking time a bit!
Sun dried tomatoes – A little sweet, a little spicy and incredibly flavorful. You can use fresh tomatoes instead if you prefer or if you simply don't have dried tomatoes on hand. They will have a little less flavor and flavor but your married chicken will still be great!
Heavy cream – The thickness of the thick cream gives the sauce some thickness. This sauce won't be as thick as, say, an alfredo sauce, but the cream gives it some substance. I don't highly recommend replacing it with cream or milk as they would change the consistency of the sauce. If you want to lighten the sauce, though, you might want to try half-and-half. The texture would still be a bit thin, but not so much thanks to the cream in the half and half.
The chef's advice
We leave the whole chicken breasts here, but cutting them into cutlets first will reduce cooking times! Simply slice the chicken breasts in half from side to side (like a burger bun) and proceed with the recipe as written.
For a little more flavor, add a little oil from the sun-dried tomatoes to the pan with the olive oil. Searing the chicken in tomato oil gives it a really nice flavor that is only enhanced by the sun-dried tomato cream sauce.
Freshly grated Parmesan will give you much better flavor and texture than pre-grated store-bought Parmesan. It's SO easy to grate your own too! Take a whole block of Parmesan from the store and grate it on a grater. If you don't have a box grater, you can use a sharp knife to cut very thin pieces of Parmesan from the block.
If you are serving your chicken marry me immediately, cook it internally at 165 ° C and transfer it directly from the oven to the plate. Make sure your sides are ready to go! If you have a few minutes between cooking and serving, take the chicken out of the oven when it reaches 160 ° C inside, then let it rest in the pan for about 5 minutes. Since the chicken reaches temperature while it rests, taking it out a little earlier will prevent it from overcooking when you eat it.
Removing the sauce from the heat to stir in the Parmesan can prevent the cheese from clumping as it melts. This will ensure a wonderfully smooth Parmesan cream sauce for your Marry Me Chicken! Adding the cheese gradually, mixing well and letting it dissolve completely before adding more will help him too.
More chicken recipes you will love
Marry me chicken
Marry me chicken is about to become your new favorite chicken recipe! This crowd-pleaser takes juicy, tender chicken breasts and marries them with an amazing parmesan cream sauce, sun-dried tomatoes, and fresh basil for a rich and flavorful main dish that everyone will love.
Instructions
Preheat the oven to 375 ° Fahrenheit. Generously season each chicken breast with salt and pepper on both sides.

Heat the olive oil in a cast iron skillet over medium-high heat. When hot, add the chicken to the pan. Brown for 3 to 4 minutes, then flip and brown on the other side for 3 to 4 minutes.

Remove the seared chicken from the pan and set aside. Add the garlic to the pan and cook until fragrant, about 1 to 2 minutes.

Mix the broth and cream, then slowly add the grated Parmesan, dried tomatoes, oregano and chilli flakes.

Bring the mixture to a boil, then return the chicken breasts to the pan. Quickly flip the chicken once or twice to coat it in the sauce, then transfer the entire pan to the oven.

Cook for 15-20 minutes, or until the chicken reaches a core temperature of 165 ° Fahrenheit.

Remove the chicken from the pan and plate with the desired sides. Pour the additional sauce from the pan over the chicken, garnish with chiffon basil and serve immediately.
Notes
The sauce will be on the thin side. If you want a thicker, creamier sauce, you can thicken with cornstarch, flour, cream cheese (at room temperature), or some xanthan gum after removing the chicken in the final step.
Chicken broth: If you're observing your sodium intake or just like it a little less, use a low-sodium chicken broth. If you are gluten-free, be sure to use a gluten-free chicken broth!
Parmesan cheese: Cold cheese can clump when added to hot liquid, so make sure it's room temperature before you start. Also, remove the pan from the heat before adding the cheese, to avoid lumps or rennet.
To chiffonade the basil: Stack the fresh basil leaves one on top of the other, then roll them well lengthwise. Use a small, sharp knife to slice the roll into thin ribbons. Cut perpendicularly to roll up.
Make it less fat: Use half and half instead of cream.
Make it Dairy Free / Whole30 / Paleo: Check out our recipe for Whole30 Marry Me Chicken!
Nutritional information
Serving: 1serving, Calories: 290kcal, Carbohydrates: 7g, Protein: 28g, Fat: 17g, Saturated fats: 7g, Polyunsaturated fats: 1g, Monounsaturated fat: 7g, trans fat: 1g, Cholesterol: 104mg, Sodium: 357mg, Potassium: 789mg, Fiber: 1g, Sugar: 4g, Vitamin A: 509IU, C vitamin: 7mg, Soccer: 100mg, Iron: 2mg, Net carbohydrates: 6g
The number of total portions displayed is approximate. Actual number of servings wit will depend on the portion size you prefer.
The nutrition facts shown are general guidelines and reflect the information for 1 serving using the ingredients listed, not including any optional ingredients. Actual macros may vary slightly depending on the specific brands and types of ingredients used.
To determine the weight of a serving, prepare the recipe as indicated. Weigh the finished recipe, then divide the weight of the finished recipe (not including the weight of the container the food is in) by the desired number of servings. The result will be the weight of one serving.